Flyflex™ Flyfishing Kits
Go Catch Some Fish!
---
WHAT IS FLYFLEX™?
FLEXO Flyflex™ is the most unique new body material to enter the market in a long time. Endless design variations are possible. Everything from caddis fly larvae to crabs to minnows to squid, in all shapes and sizes can be crafted using FLEXO Flyflex™ body material.
The secret to FLEXO Flyflex™ is the material's ability to expand up to 150% of its original diameter. This allows the tubing to be turned back on itself several times to build shape and movement into any bait design. With just a little pushing or pulling to set a shape, FLEXO Flyflex™ can expand to mimic the body shape and texture of virtually any baitfish and the braided filaments mimic the natural action of light and water against scales or skin.
FLEXO Flyflex™ is tough and resilient, and is impervious to damage by salt water or ultraviolet radiation. The material is almost weightless and is suitable for both surface and deep water presentations.
---
FLYFISHING LURES WITH FLEXO FLYFLEX™ KITS
Imagine a semi-transparent squid with a pale pink body interior. It's hollow, braided body produces vibrations just like a live squid jetting through the water. Or a neon green or hot pink eel, working the weeds on the bottom. Or any variety of plugs, jigs, flies, spinnerbait, worms, frogs, spoons, poppers or lifelike lures created with FLEXO Flyflex™ and standard tying materials. With the vast design flexibility of FLEXO Flyflex™; and your imagination and skills, the creative possibilities are endless.
Flyflex™ Shrimp
Flyflex™ Squid
Flyflex™ Jig
Flyflex™ Minnow
Flyflex™ Pinkfish
Flyflex™ Fuzzybug
Flyflex™ Colors
---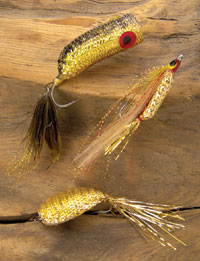 FLEXO Flyflex™ is custom braided from individual filaments of advanced PET polymer, combined with other materials. The unique tubular construction allows the finished sleeve to expand up to 150% of it's original diameter.
Since the material is both seamless and expandable, the sleeve can be manipulated in unique ways.
It can be turned back onto itself to form strong tubular shapes that surround and hide hook shanks or eyes.
It can be pushed and tied into sleek body shapes to resemble natural baitfish.
It can expand to cover tapered or asymmetrical shapes to create poppers, plugs or spoons.
When a fish strikes a FLEXO Flyflex™ body, the flexible material recedes away from the hook and allows deeper penetration and more consistent setting.
---