Deutsch Jiffy Splice Connectors
Easy To Use
---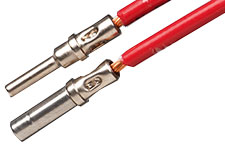 EASY AND QUICK TO INSTALL
Deutsch Jiffy Splices are a unique, field-serviceable alternative to permanent splices. Made from the same high quality silicone elastomer as Deutsch connector seals and grommets.
---
JIFFY SPLICE HOW TO VIDEO
How to use the Deutsch Jiffy Splice is explained in this instructional video created by Wirecare for its customers.
More instructional videos for our various products can be found on Wirecare.com's
Page.
---