HDMI Cables
Cable Solution for High Definition audio and visual
---
HDMI
HDMI (High-Definition Multimedia Interface) is a compact audio/video interface for high speed transmission of uncompressed digital data. HDMI connects digital audio/video sources (set-top boxes, DVD /Blu-Ray, HD sources AVCHD camcorders and personal computers) to compatable devices such as computer monitors, video projectors and digital televisions.
---
CDD HDMI v. 1.4 Premium Cables
CDD HDMI v. 1.4 Premium Cables
Premium heavy gauge (28 AWG) high speed shielded HDMI cables with Ethernet capable of speeds above 13 Gbps next generation 2160p applications.
The1.4 specification enables HDMI devices to support extremely high HD resolutions, effectively four times the resolution of a 1080p device. Support for 4K allows the HDMI interface to transmit digital content at the same resolution as the state-of-the-art Digital Cinema systems used in many movie theaters.
---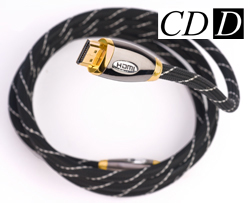 Advanced multiple screening by aluminum mylar foil with 100% shield coverage and screening braids to protect against radio frequency interferences
Low-Density Poly-Ethylene insulation to reduce signal loss and improve transmission quality
Highly pure 99.66% Oxygen Free copper conductor to ensure excellent conductivity
High-Density Triple-Layer Shielding for maximum noise rejection
Nitrogen(Nz) Gas-Injected Dielectric for maximum signal strength
Standard HDMI Cable with braided black nylon jacket
Corrosion-Resistant 24K Gold Plated Connectors
Durable gold-plated Internal shieldHDMI Plug 19P-HDMI Plug 19P
---