Insultherm® Silica Header Wrap SI
Silica Wrap Withstands Continuous Heat up to 2,000°F
---
Insultherm Silica Header Wrap
HSN is made from texturized amorphous silica filament yarn woven into a strong and flexible form. Because the yarn is texturized into a bulky form it provides excellent insulating values.
Header Wrap SI is not made from leached fiberglass, resulting in a much more wear resistant finished product.
Insultherm Silica Header Wrap is available in Natural.
---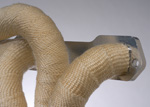 Before installing Header Wrap, soak the entire length of material in water until it's fully saturated. Wrap the wet material around your pipes, remembering to overlap the edges slighty for full coverage.
At the ends, secure the wrap with stainless steel cable ties. When your pipes warm up, the moisture will evaporate and the wrap will shrink slightly to form a tight protective seal arount the entire assembly.
---
Easy to Install
Extremely High Temperature Resistance
Halogen Free
Cut and Abrasion Resistant
Resists Gasoline and Engine Chemicals
Provides professional look on finished product
Operating Temperature Range:
Maximum Continuous (MIL-I-23053) : 2,000°F/1,093°C
Melt (ASTM D-2117) : 3,000°F/1,649°C
Operating Temperature Range:
Maximum Continuous (MIL-I-23053) : 2,000°F/1,093°C
Melt (ASTM D-2117) : 3,000°F/1,649°C
---
HFN reduces under-hood temperatures up to 70% and increases horsepower and fuel efficiency. Manufactured from texturized fiberglass yarns and woven into a strong and flexible wrap with vermiculite coating. Withstands heat up to 1,000° F.
Header Wrap Insultherm is resistant to extremely high temperatures and is commonly used for headers and exhaust. For increased protection in high performance situations, our premium Silica Fiber Header Wrap protects up to an astounding 2,000°F.
For More Info Click Here
---
The wrap is made from continuous filament basalt fiber and is engineered for protection from temperatures up to 1,500°F. When wrapped around exhaust pipes, the unique construction creates an attractive and durable finished product. Volcano Wrap is 25% stronger and provides a 300° increase in temperature protection over fiberglass wrap.
The product is very rugged, and will not exhibit any vibration damage over long periods of use. The volcanic rock fiber wrap is easy to install and will provide years of protection and good looks.
For More Info Click Here
---