WireMate®
Wire Management System
---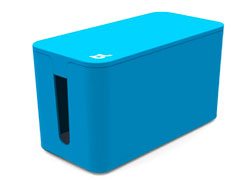 WireMate®
WM is an enclosed device that provides for the orderly realignment and consolidation of tangling wires which exist with most electronic equipment setups. They include power cords, printer cables, speaker cables, telephone wires, DSL and DV connections and many other applications. It has only two parts, a base and cover, and a very unique and inclusive design setting it apart from all other partial solutions.
---
Before
After
This device has been engineered and manufactured to encase a surprisingly large amount of wires/cables. Once the wires are set up, an attractive cover is provided which firmly snaps on the base concealing the wires. The device, through the provided tape which works in all install situations (or by optional screws), can be mounted to a wall, desk panel, configuration component or remain free standing.
---
Remove the WireMate cover by firmly pressing tips or middle of the two locking tabs at each end, while separating the cover from the base.
Affix the double sided peel off tape to the four corners of the base. The tape works very well with all applications, screws also provided
Position base where wire excess will cause tangling. It can be positioned vertically, horizontally, inverted or remain free standing
Run wires through the WireMate integrated posts as the set-up illustration shows. Leave about ¼ " slack in each wire at the entry point for the first loop only to minimize force placed on the base. The remaining loops should be snug. For existing setups, disconnect any knotted wires at one end only, to unknot and reconnect after WireMated
Press and snap cover on the base.
---