Flexo® Flame Retardant Expandable Sleeving
Flame Retardant, Economical Sleeving Solution
---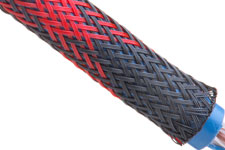 FLAME RETARDANT SLEEVING SOLUTION
Flexo PET FR sleeving is the perfect choice for electronic and high tech applications where flame retardance and durability are primary concerns. Ease of installation makes FR an efficient choice for long runs of wire or cable. The addition of an organic combustion inhibitor to our standard polyethylene terepthalate gives FR an Underwriters Lab and CSA flame resistance rating of VW-1.
---
ECONOMICAL FLAME SPREAD PROTECTION
ECONOMICAL FLAME SPREAD PROTECTION
FR is useful in applications where flame spread control is an important consideration. FR expandable braided sleeving is a light weight, durable, cost-effective method of sleeving for electrical and mechanical wire, cable and hose assemblies.
---
Cuts Easily with a Hot Knife
Economical & Easy To Install
Expands Up to 150%
Operating Temps: -103°F to 257°F (-75°C to 125°C)
Asbestos Free - RoHS Compliant
Resists Common Chemicals & Solvents
Mil-202, FAR 25, FMVSS 302, VW-1, FR-1
Melt Temp: 482°F/250°C
---