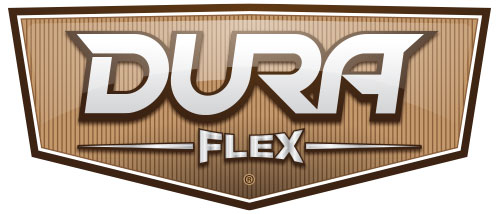 Dura Flex® Sleeving
Industrial Hose & Cable Protection For Harsh Environments
---
Woven Nylon® Sleeving
The tightly woven Nylon® makes Dura Flex® the perfect solution for hose & cable protection. The .09 inch wall thickness will protect cables, hoses and ropes from weather, sunlight and abrasion damage. When installed over uncoated cable or chains, Dura Flex® will prevent scraping, chafing and contact damage to painted or other fragile surfaces. Dura Flex® is resistant to chemicals, UV damage and rot, and is suitable for continuous outdoor use under all weather conditions. The flexible sleeving cuts with a scissor and the tight construction slides easily over any application. Dura Flex® contains no asbestos and is RoHS compliant.
---
Cuts Easily With Scissors
09" Wall Thickness Resists Snagging
Protects Exposed Applications from UV Damage
Extremely Abrasion and Cut Resistant
Operating Temps: -49°F to 248°F (-45°C to 120°C
Asbestos Free - RoHS Compliant
Resists Common Chemicals & Solvents
Tightly Woven for Full Coverage and Protection
No Damage After 3,500 Abrasion Cycles
Deflects High pressure Hose Ruptures
Melt Temp: 410°F/210°C
---
Protect Your Cables & Hoses From Damage
Heavy Duty Braided sleeving is ideal for use in applications where protecting wires & hoses from abrasion damage is a primary concern. These sleeving products are designed to endure high abrasion environments where flying debris & dragging along abrasive surfaces are common. These products also provide protection again dirt & grime. Heavy duty braided sleeving is designed to withstand exposure to the elements and can provide protection against UV rays, moisture, and other environmental factors, making it a good choice for outdoor applications. Some common industries that require the extra protection of heavy duty sleeving include: Marine, Mining, Construction, Agriculture, Automotive, & more.
---
Why Should I Use Braided Sleeving?
We believe sleeving is the best of all worlds when it's time to deal with harnesses, snakes and bundles, and we want to convince you that some type of sleeving will be the perfect balance of economy, ease of use and long term usability for your applications. Unlike other products designed for cable management, expandable sleeving is quick and economical to install on applications of virtually any length. In addition, the reduced weight and volume of sleeving is negligible to the overall diameter and weight of the application. The visual appeal of braided sleeving is an important factor as well. Many companies and individuals the world over use Techflex® brand braided sleeving for their wires, tubes, cords, and more. For professional applications, home installations, and even arts and crafts projects, Techflex® braided sleeving is your best solution!
---
Tips for Installing & Terminating Braided Sleeving
How To Determine What Diameter Sleeving You Need
Bundle the cords that you'll be covering and measure the diameter of the bundle. If you want a snug fit, choose a braided sleeving option with a slightly smaller diameter than that of your cables. If you want a loose and flexible fit, choose a braided sleeving option with a diameter that is equal to or slightly larger than that of your cables. Keep in mind that braided sleeving loses 2% to 3% of its length when it expands. Be sure to plan accordingly!
---
How To Cut Sleeving with a Hot Knife
To ensure a frayless, professional end on any installation, it is recommended that expandable braided sleeving be cut with a hot knife, rope cutter, or similar tool. We offer a wide variety of Hot Knives for different applications, including handheld knives, table knives, and replacement blades. Watch our video on Using A Hot Knife To Cut Braided Expandable Sleeving.
---
How To Terminate Sleeving with Heatshrink Tubing
Heatshrink Tubing is the ideal way to create a tight, professional finish on any wire, hose or cable management project. Once shrunk, the tubing will hold its reduced state, even at elevated temperatures. This application can be used to protect, color code, brand, or secure ends or sections of braided sleeving. A Heat Gun is required to properly apply heatshrink tubing. You can find a guide to the proper technique for working with heatshrink tubing Here.
---
---