Flexo® Stainless Steel XC
High Coverage Stainless Steel Expandable Sleeving
---
FLEXO STAINLESS STEEL X-TRA COVERAGE
Nothing protects hoses from wear and blowout quite like real Stainless Steel braid. It looks great in any application and is as strong as, well, steel. But, custom hoses overbraided with stainless steel are expensive, selections are often limited and production and delivery times can be an issue. Our new full coverage Stainless Steel sleeving, Flexo Stainless XC, provides the same look and protection as custom built SS hoses at a fraction of the cost. Braided from 304 Stainless Steel filaments, Flexo SS XC resists all common automotive chemicals, salt water and won't discolor or rust while providing an extreme level of abrasion protection on any application.
---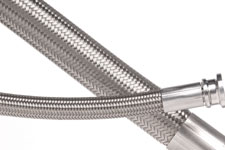 Stainless Steel XC gives a full coverage on any application and slides onto hoses for that custom look.
---
TO PREVENT FRAYING DURING INSTALLATION
TO PREVENT FRAYING DURING INSTALLATION
To prevent fraying when cutting any metal braid, slip the sleeving over the intended application to get an accurate measurement, wrap the area to be cut with a couple of turns of tape, mark the cut and remove the sleeving. Use shears or serrated scissors to cut through the tape and sleeving. Don't remove the tape until the sleeving is installed and you're ready to terminate the end.
---
Cuts Easily with Shears
Highly Abrasion & UV Resistant
Provides Fuller Coverage
Melt Temp: 2,650°F/1,454°C
Virtually Indestructible SS-304
Resists Common Chemicals & Solvents
Will Not Rust or Discolor
Resists UV Damage
---