Milo
Micro-Suction Stand for Your Smartphone
---
This multipurpose product has heaps to discover and offer.
Milo is the ideal place to rest your smartphone. A partner on the desk, nightstand or worktop that is dedicated to hold your device while in use or at rest. Milo is a minimal and fun desktop accessory. Perfect for hands-free conferencing, viewing videos or as a simple docking station.This nifty little stand features a hi-tec Japanese micro-suction technology to directly grip your phone at any desired angle.
Milo can be used comfortably with iPhone, iPod or other Smartphones with a smooth flat hard surface. Devices can be placed either horizontally or vertically on the micro-suction pad.
Milo is available in Black or White.
---
Place the back of your device onto the the front of micro-suction pad.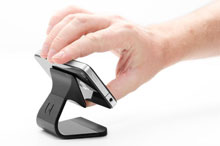 Hold for a couple of seconds to ensure the micro-suction fully grasps the flat surface of your device.
Freely browse, make a phone call or enjoy your favorite app.
---
BLUELOUNGE MILO HOW TO VIDEO
How to use the Bluelounge Milo is explained in this instructional video created by Wirecare for its customers.
More instructional videos for our various products can be found on Wirecare.com's
Page.
---